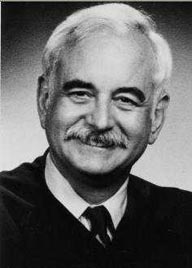 Richard B. Sanders was elected to the Washington Supreme Court in 1995. During his 26 years of legal practice prior to becoming a Justice of the Supreme Court, Justice Sanders litigated more than 100 appeals (no fewer than 60 of which resulted in published opinions). Since coming to the Supreme Court he has become one of its most prolific authors and is recognized nationally for his published opinions and other writings. See www.JusticeSanders.com.
As a private practitioner he championed the civil rights of his clients and as a Justice he regards protecting our constitutionally guaranteed liberties as the first duty of our highest court. Justice Sanders believes the court must protect all the legal rights of all the citizens who come before it all the time. "We have no second class citizens," he adds. His special interest is the Washington State Constitution, and he often quotes his favorite passage: "[G]overnments . . . are established to protect and maintain individual rights." Const. art. I, § 1.
Justice Sanders is a native of Tacoma and spent the best years of his childhood there. He moved to Seattle where he graduated from Highline High School. While at Highline High he was elected president of the school's debate club, and he earned the rank of Eagle Scout. Justice Sanders received his Bachelor of Arts degree from the University of Washington after participating in the political science honors program and playing[1] in the Rose Bowl. He thereafter earned his J.D. in 1969 from the University of Washington School of Law. During his years at the University, Justice Sanders wrote "The Devil's Advocate," a weekly column of opinion in The Daily, the student newspaper.
Since taking his seat on the Supreme Court, Justice Sanders has served as an adjunct professor teaching appellate advocacy at the UW School of Law; has written articles for professional journals and texts; and has presented lectures to local, state, and national organizations on diverse topics including civil liberties, land use, the Washington State Constitution, legal ethics, and Abraham Lincoln, among others.
Justice Sanders enjoys inviting students and community groups to tour the Temple of Justice to visit with him. He is the father of Laura Sanders, a 2009 summa cum laude graduate of the University of San Francisco. Laura is enthusiastic in all her endeavors and is the light of her daddy's life.
[1] The French horn.